The holiday season is upon us! We know the next month is the busiest time of year for many sellers, and we want to support you! Our members created some beautiful graphics to spread awareness about the struggles indie sellers face and what we are doing to fight back.
Feel free to download, print, share, or otherwise use these graphics anyway you want. Just please remember to always credit/tag the artist who made the graphic, when provided. Thanks!
A note for gifts
This gorgeous graphic is intended to go with any gift this holiday season. As a seller, you can add it to orders, and as a buyer you can include it with a gift purchased from an indie seller so that the person who receives it will know how special it is.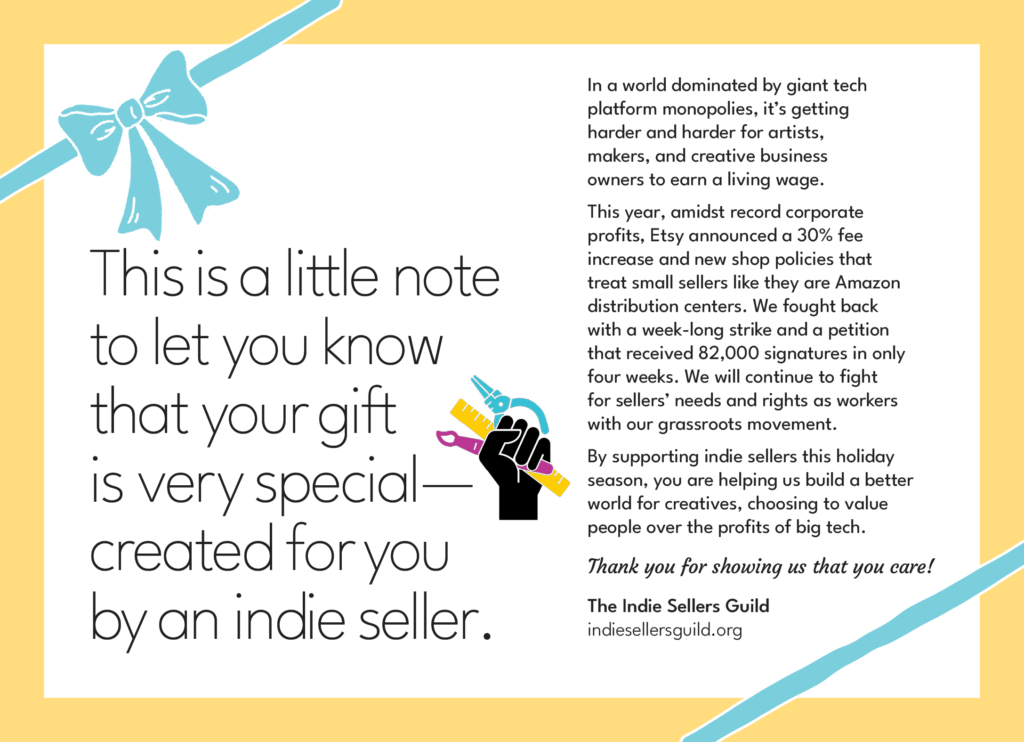 This graphic was created by the talented Kelly Jo Anderson, https://acornandthistle.com. Thank you so much to Kelly for volunteering your time and skill!
Her social media links are:
Instagram: https://instagram.com/kjandersondesign
LinkedIn: www.linkedin.com/in/kellyjoandersondesign
Pinterest: www.pinterest.com/kellyjoandersondesign
We have three PDF files formatted to be printed on a home computer and then cut out, though feel free to have them printed if you prefer. Kelly recommends heavier weight (usually labeled "premium") printer paper as it takes the ink better and prints cleaner graphics. She uses Staples Premium White Laser Paper (25% cotton, 32lb) or Neenah Paper Astrobrights Bright White Cardstock (65lb).

When I did a test print, I found I had to select "fit" to make sure some of the border did not get cut off, as my printer does not print all the way to the edges of the paper.
Single 5″x7″ card
2 cards in an 8.5″x11″ page
4 cards in an 8.5″x11″ page
A card for orders
Here is short holiday themed message in support of creative indie sellers and the Indie Sellers Guild. It's formatted for a business card, and could be printed on it's own or on the back of your own business card.
A holiday flier
This lovely full page holiday flier has all the most important information about the Indie Sellers Guild and our mission. As a seller or supporter, you can print them out to hand out at events, hang up on bulletin boards, or put anywhere else you can think of to help spread the word about the struggles of indie sellers and what we are doing to fight back.
This flier was made by the wonderful Allison, www.vernalcraft.com. Thank you so much to Allison for donating your talents! Her social media tags are:
Instagram: @vernalcraft
Twitter: @a.missal.a
Verified seller signs and cards
Finally, for our Indie Sellers Guild Verified Sellers Members, we have seller badge signs to print out and display at events, as well as badges formatted to be printed on the back side of a business card. This example and more can be found by logging into the ISG website and going to https://indiesellersguild.org/members/seller-badges.
Thank you so much and we wish you all a wonderful and successful holiday season!
If you would like to shop from our ISG verified seller members, you can find a directory of their shops at indiesellersguild.org/shops.
This directory provides a place for sellers members to list their shop information or links. The Indie Sellers Guild does not collect any fees for the listing or purchases made through the directory.
If you would like to help support the Guild continuing to offer free services such as this to support indie sellers, please consider donating a few dollars at indiesellersguild.org/donate and sharing this blog post on your social media accounts.